Your Donation
International Donors
For the many malnourished children, mothers and families we have been able to help so far, your support as a friend and partner of HIAM Health means so much. You are giving them hope for a healthy life and a brighter future. Even more, your generosity really encourages the staff at HIAM Health. Your support can rescue a child suffering from malnutrition permanently.
$30 per day for Mother and child in the MR&EC.
$25 supplies a food and hygiene take-home pack on discharge.
$25 supplies a food and hygiene pack at the 12th week monitoring visit.
$25 supplies a gardening take-home pack.
$300 per month covers the wages of a qualified nurse.
$225 per month covers the wages of a health worker.

*in USD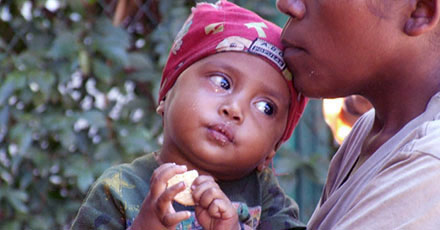 Australian Donors
Action on Poverty (AOP) and HIAM are working together in the delivery of aid to people overseas who are in need. AOP closely monitors the work of HIAM Health to ensure the delivery of relief to the needy on the ground in Timor-Leste in terms of project outcomes. AOP allows HIAM Health to use donated funds or donations in kind only for benevolent activities undertaken by HIAM Health.
Donate via Action on Poverty
Click the button above to make a secure tax deductible donation via AOP. On the AOP payment page, please select "HIAM Health [Timor Leste]" as the Program to ensure that HIAM Health receives your donation.
The true wealth of any nation is in the strength of its people. Investing in nutrition is the best way to build that national strength. It will yield high returns in the form of healthier children, more able and productive workers, and a more peaceful and stable society.
World Bank, Horten et al, 2010
Why Australia Owes A Debt Of
Honour To Timor-Leste
How 50,000 Timorese lost their lives protecting Australian soldiers in WWII
In World War 2, Portuguese Timor was neutral territory. However, Australia's 2/2 Company entered uninvited, luring the Japanese troops. Many young Timorese volunteered to serve alongside as the eyes and ears of the Australian soldiers, hauling supplies and equipment, making the 2/2 Company an effective guerilla force. Some actually carried arms and took part in engagements with the enemy. The Timorese also gave the Australians food, shelter and refused to inform on them.
Unconditionally, the Timorese became an invisible shield for the Australians. With Timorese protection, Australia's small guerilla company suffered an incredibly small number of casualties, and was able to fend off the Japanese troops even when they came within striking force of Australia later on.
Today, few are aware of the 50,000 Timorese who died as a result of this conflict. Despite supporting Australia more than any other nation during the Second World War, the Timor campaign appears only as a minor footnote in most histories.
But Australian veterans who fought in this campaign feel a great debt to their Timorese comrades-in-arms for saving their lives. Many are greatly aggrieved when successive Australian governments betrayed them. Unfortunately, Australian policy appeased the Indonesia invasion and subsequent excess of carving up East Timor's oil reserves in the 1980s.
In the light of this, many Australians, whose fathers and grandfathers have fought in the Timor campaign are extremely grateful for the Timorese. Knowing that they would not be alive otherwise, many have stepped forward to make generous donations to HIAM Health over the years.
Adapted from: "The Men Who Came Out of the Ground"
by Paul Clearly
Our Donors & Supporters
Donor
Country
Span
Link
USAID
Timor-Leste
2004—2005
Link
HART (Humanitarian Aid Relief Trust)
UK
2004—Present
Link
The Optical Superstore
AU
2005—Present
Link
The Bupa Group

AU
2008
Link
BLS Constructions
WA
2009
Link
St John God Pathology
AU
2006—2008
Link
British Embassy
Timor Leste
2005—2006
Link
Jill Forsyth
AU
2006—2012
N/A
GTZ (German Technical Corporation)
Timor Leste
2007
Link
Indigo Shire (Dr Wendy Connor)
AU
2005—2008
N/A
AFAP (Australia Foundation for the Peoples of Asia Pacific Ltd)
NSW
2007—Present
Link
Ex-President of Timor Leste, Dr Jose Ramous Horta facilitated funds from:

The Office of the Presidents fund to Combate Poverty (2011)
The Office of the Prime Ministers fund for Social Welfare (2012)

Timor Leste
2006—2012
Link
World Food Program (WFP)
Timor Leste
2006—2012
Link
The Chain Reaction Project
SG
2009—Present
Link
SETRA (Seattle East Timor Relief Association)
USA
2006, 2008, 2011, 2013
Link
Rotary (DIK)

VIC
2006—Present
Link
Hart Australasia

AU
2012
Link
Rotary Club of Queenstown
SG
2012
Link
Sunrise Joint Venture (Woodside, Shell, Conoco Phillips, Osaka Gas)
International
2012—Present
Link
Medic One
WA
2012
Link
ETCAS (East Timor Community Assistance Scheme)
East Timor
2009, 2012
Link
Lions Club Australia
AU
2012
Link
Maritime Chamber of Commerce
NSW
2012
N/A
Isle of Man
UK
2013-2015
N/A
AYAD (Australian Youth Ambassadors for Development)
AU
2013-2014
Link
ABV (Australian Business Volunteers)
AU
2011 – 2012
Link
Curves West Ryde
AU
2012 – Present
Link
Rob White Consulting
WA
2011
Link
Timor Leste Travel Agencies
TL
2010
N/A
Friends of HIAM Group
WA
2006 -2012
N/A
Uniting Church & Members (Wembly Downs)
WA
2010
N/A
Halsion
Timor-Leste
2011- Present
Link
SAI (Smallholdings Agriculture International)
WA
2012-Present
N/A
To every single individual who has helped and donated to us:
Thank you from the bottom of our hearts, for all your contributions thus far. With all your continuous support, we have and will perservere in giving the people of Timor-Leste a brighter future.